Search
Hit enter to search or ESC to close
Tickets on sale now
Bombay Bicycle Club
BOOK NOW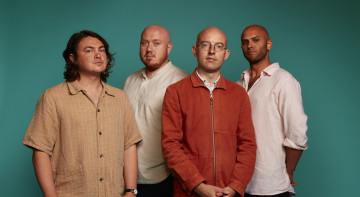 Bombay Bicycle Club
3Olympia Theatre, Dublin
30th January 2024 - Sold Out
31st January 2024 - on sale now
Doors 7pm
Tickets from €38 including booking fee on sale now
Bombay Bicycle Club have been writing songs for Saturday nights and songs for Sunday mornings since their mid-teens. They still remain one of the most inventive, insistent and, arguably, influential British guitar bands of the past generation, which says much to their powers of reinvention. It also speaks to the band's effortless ear for a melody and its deployment. BombayBicycle Club has just announced their headline gig in the 3Olympia Theatre, Dublin, as part of their 2024 UK & Ireland tour.
Hailing from North London, Bombay Bicycle Club burst onto the scene with their 2009 debut, I Had The Blues But I Shook Them Loose. Comprised of singer/ guitarist Jack Steadman, guitarist Jamie MacColl, drummer Suren de Saram, and bassist Ed Nash, the band initially formed while Steadman, MacColl and Saram were at University. The band went through many different names before landing on the well-loved Bombay Bicycle Club in reference to an Indian restaurant chain.
Their ability to seamlessly blend genres captured the attention of many as they continued along their road to success. 2011 saw the release of A Different Kind of Fix, and they started exploring electronic and dance influences. Never shying away from experimentation, the band's 2014 album So Long, See You Tomorrow showcases them delving into and working with world influences. Following on, the band released Everything Else Has Gone Wrong. The artful post-punk songs speak of the troubled state of the world and middle-age.
Bombay Bicycle Club have just released their newest track 'Tekken 2', a surprise collaboration with the queen of funk and R&B, Chaka Khan. The track is the final track to be lifted from the band's forthcoming new album, My Big Day, released Friday 20th October. 'Tekken 2' was written by frontman Jack Steadman at the band's own London studio.Jack was eager to share the song with global legend Chaka Khan, envisioning her as the ultimate feature to elevate the track. She was, in essence, his dream feature. This led to Jack jetting off to L.A. to capture her distinctive vocal line. "Tekken 2" showcases not just the band's versatile musical prowess, but also their capacity to attract monumental talent spanning various music domains.
My Big Day is released on 20th October. The record features an eclectic host of guest vocalists that perfectly encapsulates the breadth of the band's widespread appeal, including Damon Albarn, Jay Som, Nilüfer Yanya, Holly Humberstone and now Chaka Khan. Jack sits on both sides of the glass for the duration of the record, having previously produced their fourth album So Long, See You Tomorrow, and co-production with John Congleton for 2020's Everything Else Has Gone Wrong. Additional production comes from Paul Epworth on the track 'Heaven' and Ben Allen who co-produces 'Turn The World On'.
The record was mixed by Dave Fridmann (renowned for his work with The Flaming Lips, Mercury Rev, MGMT, HAIM).
Connect with Bombay Bicycle Club
Instagram | Twitter | Facebook | Website | Spotify
Recommended Artists