Search
Hit enter to search or ESC to close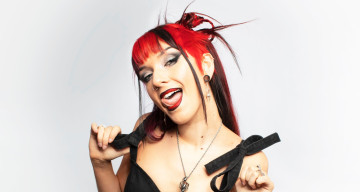 DELILAH BON
+ special guest Valerie Rose
The Academy 2, Dublin
Saturday 23rd September 2023
Delilah Bon is an independent artist from South Yorkshire, UK. Writing and producing her own music, she effortlessly blends mischievous lyrical hip-hop, hard hitting nu-metal and bratty riot grrrl punk into a style she calls 'Brat Punk'.​
Empowering women, non binary and LGBTQ+ people worldwide through her fierce lyrics and feminine rage, Delilah Bon is an artist that demands to be heard, lyrically addressing women's issues and abuse. Though Delilah is not one to shy away from serious topics, her music is also mischievous and fun, building soundscapes and characters, unafraid to let her creativity flow between genres.
Following a debut album release on the artists own label (Trash Queen Records) in May 2021, a run of Summer festivals and a successful Autumn tour in 2022, Delilah was invited to perform live on French National TV on Le Late Show with Alain Chabat after being discovered on TikTok. She rounded off 2022 by performing at the launch of a new winter collection for Italian fashion designer Emilio Pucci at an intimate performance in the Swiss Alps.
DELILAH BON continues her upward trajectory into 2023.
​Delilah has been nominated as a finalist for 'UK Breakthrough Artist' for the Heavy Music Awards by a panel of nearly one thousand industry professionals.
Delilah's latest single release 'I Wish a Bitch would' hit over 500k Spotify streams in the first 2 months, landing her the cover artist feature of the prestigious Spotify Misfits 2.0 editorial playlist. The track was also featured in the 'Alternative Metal' , 'Heavy Queens' 'The Locker' and 'All New Metal' Spotify Editorial playlists.​
Delilah Bon has been announced for 2000 Trees Festival, Bearded Theory, Shindig, Tramlines and chauffeur dans la noirceur Festival (France) with more TBA.
Plans are underway for a UK & European Autumn Tour this year with 2 Benefit gigs for a LGBTQ+ charity (Galop UK) at Colours Hoxton in London and Deaf Institute Manchester in June 23 currently on sale.
Recommended Artists