Search
Hit enter to search or ESC to close
+ special guests: Young Fathers
Depeche Mode
SOLD OUT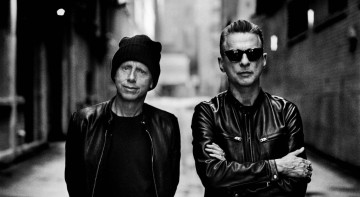 Depeche Mode
+ special guests Young Fathers
Malahide Castle, Dublin
14th June 2023 | Subject to licence
Tickets from €79.65 including booking fee are NOW SOLD OUT
Last October, Rock & Roll Hall of Fame inductees Depeche Mode announced at a special event in Berlin on that they will be releasing a new album and embarking on a world tour in 2023.
The tour will include Depeche Mode's biggest ever Irish concert at Malahide Castle on 14th June, subject to licence.
Special guests are Young Fathers.
A limited number of tickets from €79.65 including booking fee are available now at Ticketmaster.ie
The Memento Mori Tour is in support of the band's 15th studio album, Memento Mori, which is out now.
In a break from tradition, Dave Gahan and Martin Gore revealed that the Live Nation-presented tour began with a special, limited series of North American arena dates starting March 23rd, before the band heads to Europe for their summer stadium tour on May 16th, with noted stops including the Stade de France in Paris, Berlin's Olympic Stadium, Milan's San Siro Stadium, and London's Twickenham Stadium.

In speaking about Memento Mori, Martin Gore commented, "We started work on this project early in the pandemic, and its themes were directly inspired by that time. After Fletch's passing, we decided to continue as we're sure this is what he would have wanted, and that has really given the project an extra level of meaning." Dave Gahan added, "Fletch would have loved this album. We're really looking forward to sharing it with you soon, and we can't wait to present it to you live at the shows next year."
The Memento Mori Tour is Depeche Mode's 19th tour and their first in over five years. The band's most recent outing, the 2017-2018 Global Spirit Tour was its longest to date and was one of the year's highest grossing tours, with the band playing to more than 3 million fans over the course of 130 shows across Europe and North America.
Memento Mori is Depeche Mode's 15th studio album and the follow-up to 2017's critically acclaimed Spirit, which reached #1 in 11 territories, charting in the Top 5 in more than 20 others.
Having sold more than 100 million records and played to more than 35 million fans worldwide, Depeche Mode remains an ever-evolving and singularly influential musical force. An indelible inspiration to fans, critics and artists alike, Depeche Mode continues to forge ahead, with the Memento Mori album and tour representing the opening of the newest chapter of a peerless and ongoing legacy.
For more visit www.depechemode.com

OUTDOOR STANDING EVENT PLEASE DRESS APPROPRIATELY FOR IRISH WEATHER AND CHECK WEATHER PRIOR TO ARRIVAL
Weekday: Gates 5pm/Show Starts 6pm
Weekend: Gates 4pm/Show Starts 5pm
Due to increased traffic & security measures attendees are advised to be at the venue in sufficient time. No overnight or early queuing. Please respect local residents and other park users by not engaging in anti-social behaviour.
THERE IS NO RE-ADMISSION TO THESE EVENTS.
FOR YOUR SAFETY & ENJOYMENT
To help avoid any entry delays, please download, print or save your ticket(s) before arriving at
the concert. We recommend saving the ticket(s) to your mobile device's digital wallet. If you have purchased any ticket(s) for other concert attendees, please provide their ticket to them prior to arrival at the entry gate. Ticket inspections in operation on approach routes.
Please allow plenty of time for concert entry procedures, ticket checks and searches. Everyone will be subject to a search permissible under law and a condition of ticket purchase and entry. Additional security checks may take place once inside the venue.
There will be a strict NO Alcohol Policy implemented on all transport and private buses travelling to the venue. Please do not arrive at the event intoxicated as you will not be permitted entry.
The Promoters and An Garda Síochána reserve the right to refuse admission to anyone deemed to be under the influence of alcohol and/or drugs.
NO ALCOHOL or DRINKS are permitted to be brought into the park demesne or the venue with the exception of water and soft drinks in sealed plastic bottles up to 500ml. Empty reusable plastic bottles are permitted into the venue. There are water drinking water points onsite.
NO backpacks, large handbags, bags over A4
size, garden furniture, deckchairs, fold up chairs
or shooting sticks, umbrellas, selfie sticks, flares/ fireworks, laser pens, megaphone/air horns, aerosols, spray cans, smoke & gas canisters, nitrous oxide & any associated equipment, glass, drones', professional cameras with a detachable lens, video cameras, audio recording devices. Items left unattended will be removed and disposed of accordingly. Full list of prohibited items please visit www.mcd.ie
Please move slowly and quietly when exiting the concert site. Please co-operate with stewards and Gardaí and follow any loudspeaker announcements.
There may be strobe lighting, lasers and pyrotechnics used at these events.
TRANSPORT
Plan and book your return travel arrangements in advance allowing at least an extra 2 hours travel time to and from the venue. As traffic and parking delays are inevitable you are encouraged to walk, cycle, use transport and coach services. Promoters do not operate transport to/from venue this is matter for customers to arrange in advance. Pedestrians will only be permitted into the grounds of Malahide Castle via Hogans Gate (Near Dart Station). Pedestrians will not be permitted to enter through any other park gate.
DART: The Dart will run services each day to and from Malahide Dart Station. It is a 15-minute walk to the arena entrance from this station. For more information visit www.Irishrail.ie
CITY CENTRE CONCERT BUS: There will be a direct bus service to Customs House Quay, Dublin 1 following each event from the Dublin Road. This is offered as a single or return service. You can pre-book and find more info at www.marathoncoaches.ie
PRIVATE BUSES: There will be coach/ bus and minibus parking available within the grounds of Malahide Castle, access is via Back Road. It is very important to us that you notify and register with us in advance, to do so please email [email protected] with the details.
CAR: Fingal County Council will be providing car parking at the Malahide Castle Concerts via the Back Road. For discounted tickets we advise that you pre- purchase parking in advance of the event from www.marathoncoaches.ie Parking tickets will cost €25 on the day without a pre-booking. Please follow the event traffic signage.

DO NOT ATTEMPT TO PARK ILLEGALLY IN AREAS SURROUNDING MALAHIDE CASTLE, IN LOCAL ESTATES OR OUTSIDE LOCAL RESIDENCES. PARKING ENFORCEMENT RULES WILL BE IN OPERATION AND YOUR VEHICLE WILL BE CLAMPED OR TOWED

TICKET COLLECTIONS / GUESTLIST
Ticketmaster box offices and guestlist facilities are located opposite the arena entrance
AGE POLICY
No unaccompanied under 16's are allowed on site. Under 16's must be accompanied by a parent / guardian over 18, who must take full responsibility for them and remain with them throughout the event. Unaccompanied under 16's will be refused entry without refund.
ADDITIONAL ACCESSIBLE REQUIREMENTS
Accessible parking must be booked in advance. Please contact [email protected] to register for this and with any other non-ticket related requests or queries. For accessible ticket queries please contact www.ticketmaster.ie
CARD PAYMENTS
All venue bars will have contactless card payment facilities. Some food vendors will also take card payments. The promoter reserves the right to refuse admission or evict without refund anyone who fails to comply with the event terms and conditions (T&C's) of entry. For full T&C's please visit www.ticketmaster.ie / www.mcd.ie
Malahide Castle Demesne is in a residential area, we ask all concert-goers to respect the local community by not engaging in any anti-social behaviour and by not parking illegally or in residential areas. Thank you for your cooperation and enjoy the shows.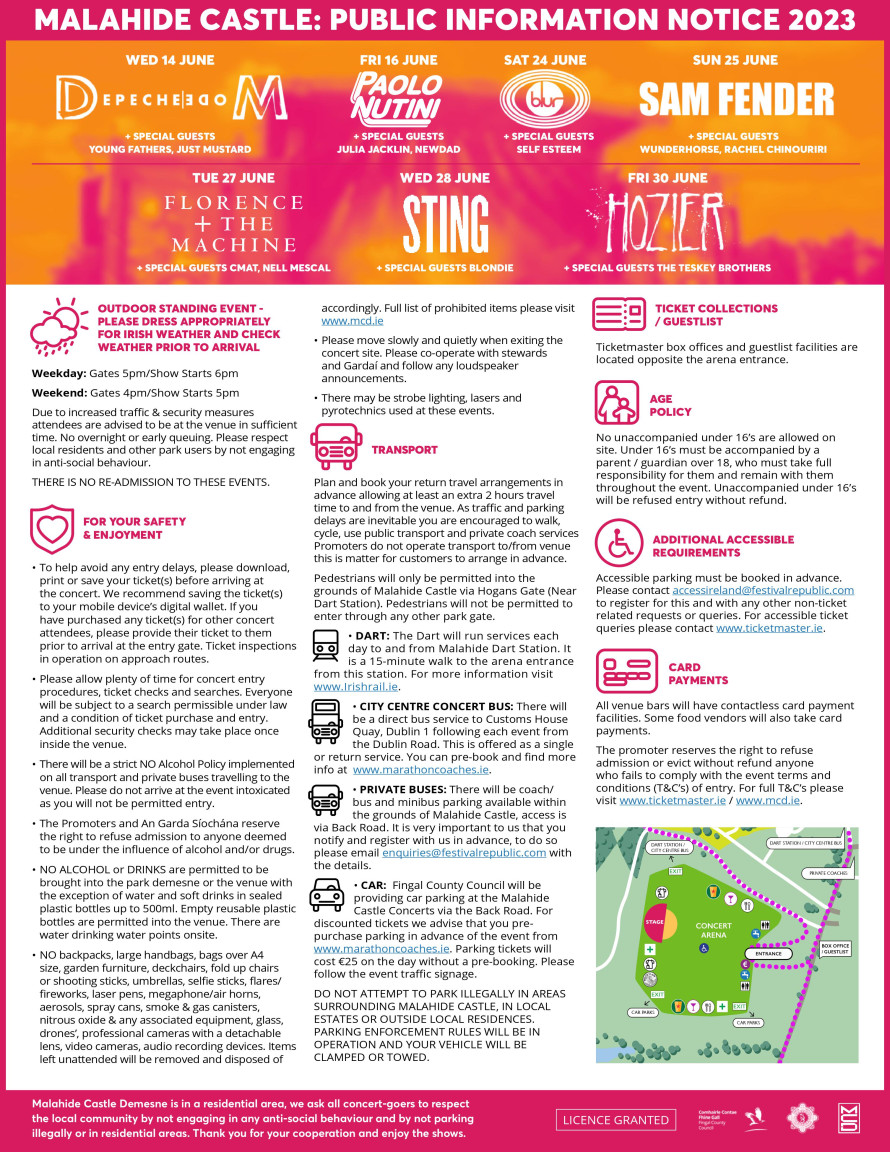 Recommended Artists