Search
Hit enter to search or ESC to close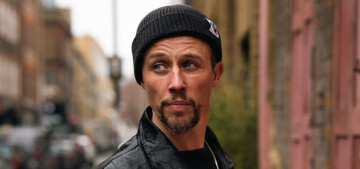 JP COOPER
3Olympia Theatre, Dublin
Friday 15th September 2023
Tickets from €26.90 including booking fees on sale now from Ticketmaster.ie
Acclaimed British singer and songwriter JP Cooper has announced dates for his new UK & European tour, which includes a show in Dublin's 3Olympia Theatre on 15th September 2023.

Acclaimed British singer and songwriter JP Cooper, whose debut album "Raised Under Grey Skies", including the huge global hit "September Song", and sophomore album 'SHE', introduced an artist of great depth with a voice and songs to match, returns from a triumphant sold out US tour to announce new UK and European dates in the autumn of 2023. The dates are the first to be announce from what will become his first ever World Tour, the announcement also come ahead of new music from his own project and a new string of collaborations that will be dropping throughout 2023 and 2024.
Speaking about this new chapter in his career JP says:
"Being on stage has never been a comfortable place for me. The time, energy and mental preparation it has taken me in the past to get out on tour has sometimes been overwhelming, but coming out of lock down and getting back out on the road over the last few months has reminded me how special it was being in a room with you all. Seeing people smile, cry and sing along again has really helped to change my perspective on live performance, so I'm super happy to announce that my autumn UK and EUROPE tours are on sale now.
Album 3 is currently under construction so we might have to leak some for you so you can sing along to these new songs..
There are more announcements coming over the next few months so stay in touch"
JP's soulful voice has graced two of the biggest and most enduring Top 5 singles of the last few years; the Jonas Blue's memorable "Perfect Strangers", which Cooper co-wrote, and his inescapable and enduring radio hit "September Song" (which has racked up over 850 million streams worldwide). The Manchester born troubadour Cooper has an incredible 1.5 million ADJ Global album sales, an extraordinary 5.5 billion total global streams, fuelled by his devoted 9 million monthly Spotify listeners. In addition to over 135,00 radio plays across 250 radio stations and sold out UK, European and US tours.
2023 promises to be JP's most exciting year with lots of new music to come.
Connect with JP Cooper
Instagram / Twitter / Website / Spotify
Recommended Artists