Search
Hit enter to search or ESC to close
Tickets on sale now
Roisin Murphy
TICKETS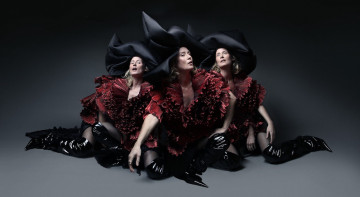 Róisín Murphy
3Olympia Theatre, Dublin
Saturday 3rd & Sunday 4h February 2024
Tickets from €50.70 including fees on sale now.
Following a sold-out show at Trinity Sessions last summer, Roisin Murphy has announced her welcome return to Dublin's 3Olympia on Saturday 3rd & Sunday 4th February 2023.
Continuously pushing boundaries in both recording and live-settings, Róisín Murphy's capacity to be an ever-evolving performer is a spectacle in itself. From live-streamed lockdown events to headline appearances at Glastonbury West Holts Stage, Homobloc, a sold-out Brixton Academy, Coachella and Primavera Sound, Murphy consistently proves to be a thrilling must-see artist in every sense of the word. Having played a critically lauded and sold-out headline show at Royal Albert Hall, the summer further cements Murphy's live reputation, with a festival calendar that included Melt Festival, Secret Garden Party, Mighty Hoopla and more.
NEW ALBUM 'HIT PARADE' OUT NOW ON NINJA TUNE
"…The best album of her idiosyncratic career" - The Guardian Film + Music

"Soulful, joyous and playful… one of her most cohesive and strong bodies of work yet" - Loud & Quiet, 9/10

"deeply textured and demands multiple plays" - The Arts Desk, 5/5

"Róisín is setting a precedent to be followed for decades to come" - Clash, 9/10

"...an essential Róisín Murphy album" - Retro Pop, 5/5

"kaleidoscopic...many strange and good ideas" - MOJO, 4/5
The upcoming tour offers a chance to witness the hotly anticipated album, 'Hit Parade', in a live setting. Produced in collaboration with electronic music virtuoso DJ Koze, the 13-track compendium of genre-melding gems is out now via Ninja Tune.
With 'Hit Parade', Murphy continues her ever evolving, shape-shifting 30 year career, looking towards the future by joining forces with DJ Koze to conjure blissful music that teems with life and imagination. A hyper-modern record which is a world away from 2020's critical and commercial success of "Róisín Machine", it further cements Murphy as a total one of a kind at a creative peak, a constantly inquisitive and restless spirit who is unmatched.
From her time growing up in the Irish town of Arklow, music seemed to call Murphy almost instantly, from the moment she discovered the power of her own voice at the age of 10 through performance of the eternal showtune classic "Don't Cry For Me, Argentina" at a local poetry festival. Murphy dove headlong into the music scene after her family decamped to Manchester when she was just a teen. When her parents divorced and moved back to Ireland when she was 15, she decided to stay behind in England and live alone, to continue her artistic immersion. After a brief flirtation with noise and punk in Manchester's confines, she hitched over to Sheffield at 19 to immerse herself in the club scene. A chance meeting with local bassist Mark Brydon led the pair to form the celebrated group Moloko, and from there Murphy's decorated solo career has spanned 5 lauded albums (with a Mercury Music Prize nomination for 2015's "Hairless Toys"), celebrated EP and single collaborations, and more recently video directing and acting accolades.
Follow Róisín Murphy
Instagram | Twitter
Facebook
Recommended Artists