Search
Hit enter to search or ESC to close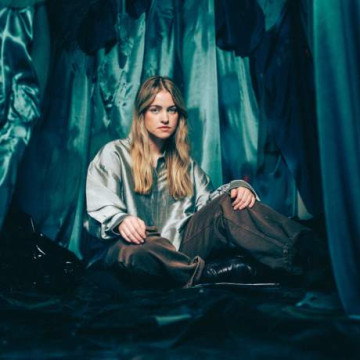 MCD proudly presents:
SKAAR
Tuesday, October 24th, 2023
Black Box, Belfast
Doors: 8pm
Tickets: £12 including booking fee
Over 18s ID required
Thursday, October 26th, 2023
The Workman's Cellar, Dublin
Doors: 8pm
Tickets: €14.90 including booking fee
Over 18s ID required
"Not only sees light at the end of the tunnel but actually basks in the sun" The Line of Best Fit "Upbeat, serene and strikingly vulnerable" - 1883
Today rising Norwegian pop force SKAAR has released part one of her new album 'Mad Woman', out now via Warner Music Norway, stream here.
Along with the release she has shared her compelling new single 'As Far As We Go', watch here, and will be returning to the UK in May for a one off free entry show at London's The Old Blue Last (9th), before her debut at The Great Escape Festival in Brighton later that week (10th-13th).
For three years, Norwegian singer-songwriter SKAAR has been bound in a straitjacket, gagged by self-doubt and a mistrust of her own memory. Her third record, Mad Woman, is a story of hard-won reclamation, a scream for survival. Pushing the parameters of what pop music is capable of, the album's hooks and highs offered much-needed sweetness to the bitter realities she forced herself to confront, unravelling her long-avoided trauma.
"The process of making this new album has been incredibly demanding on me. The emotional highs and lows have been very volatile, and I have now spent three years thinking about what I want this album to be. I've experienced some incredibly difficult things, and as a consequence my mental health has been fragile...but I really love the songs I've written, and the therapeutic effect that writing these songs has had on me cannot be underestimated. It feels like having to let go of an era in my life in order to move on to the next phase."
To tell this story, SKAAR felt she would have to divide Mad Woman into two parts. The first is a reflection of her mental state at its worst, the rock-bottom she was determined to build from; the second is about the day she always hoped would come, when she reclaimed her control and spirit through writing this album on her own terms. This is not a project of victimhood. Rather, this is about SKAAR finding protection in pop music, euphoria in a refusal to be silenced and a reclamation of control. No single song lends itself entirely to darkness or light, just as she no longer sees experiences in terms of 'bad' or 'good': they only serve the woman she has become.
Together, Mad Woman tells a story of a person daring to believe in herself and stand her own ground. SKAAR comments: "The whole album is about my journey to dare to listen to myself, believe myself and let it go. I don't think you can let things go if you don't accept that they've happened." After all this time, she has never stopped chasing silver linings: she wants her experiences on this album to be a source of comfort, to create a sense of closeness and sisterhood that she experienced with her own friends as she was writing it.
With more than 50 million all-time streams on Spotify and multiple Spellemannprisen (Norwegian Grammys) nominations, SKAAR is a multi-platinum selling artist who is connecting with fans across the world with her pop songs that brim with spirit and vulnerability, including support from tastemakers like The Line of Best Fit, Wonderland and 1883. Last year SKAAR supported Sigrid on selected dates on her UK headline arena tour, and will be returning to the UK this May for The Great Escape festival.
MAD WOMAN PT.1 TRACKLIST
1. As Far As We Go
2. Mad Woman
3. DNA
4. Something Like This
5. Obscene
6. What Are You Scared Of?
7. Get Him Away From Me
Upcoming Performances:
Please note, times subject to change as always and should be used as a guideline only.
Recommended Artists