Search
Hit enter to search or ESC to close
DUBLIN & GALWAY
Two Door Cinema Club
TICKETS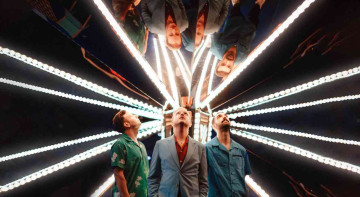 TWO DOOR CINEMA CLUB
22nd June 2024
Fairview Park, Dublin
Subject to licence

16th August 2024
Galway Summer Sessions, Galway Airport
Tickets on sale this now via www.ticketmaster.ie
Two Door Cinema Club have announced massive summer concerts for summer 2024 with shows at Fairview Park, Dublin on Friday June 22nd and Galway Summer Sessions, Galway Airport on Friday August 16th.
The bands new incredible new single "Sure Enough", is out now.
Mixing guitar-driven hooks with a dancey, electronic polish, Northern Ireland's Two Door Cinema Club first gained attention with 2010's Tourist History and singles like What You Know, Something Good Can Work and Undercover Martyn. The album saw the band cement a global following and they have since produced a hat trick of records of equal merit and success: Beacon (2012), Gameshow (2016) and False Alarm (2019); each scoring Top 10 positions in the official charts of the UK.
September 2022 saw Two Door Cinema Club release their critically acclaimed fifth studio album 'Keep On Smiling'. Adopting a freer, more collaborative approach to the creative process it was written and produced by the band both during and coming out of lockdown, with additional production from Jacknife Lee and Dan Grech Marguerat. The record recaptures what originally propelled the group into the mainstream consciousness, and a legacy as one of the UK and Ireland's most enduring and beloved bands.
Follow Two Door Cinema Club:
Website | Twitter | Facebook | Instagram | TikTok
Recommended Artists