Search
Hit enter to search or ESC to close
RDS Simmonscourt & Galway Summer Sessions
Pixies
TICKETS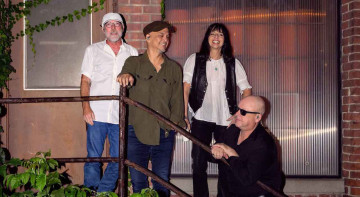 PIXIES
27th August 2024
Galway Summer Sessions, Galway Airport
29th August 2024
RDS Simmonscourt, Dublin
Gates 7pm | Under 16s accompanied
Tickets priced from €59.90 inclusive of booking fee
Plus Special Guests
3Olympia Theatre, Dublin
8th, 9th & 10th March 2024
SOLD OUT
Pixies have announced their much-anticipated Irish return with shows this summer at Galway Summer Sessions, Galway Airport on August 27th and RDS Simmonscourt on August 29th.
Pixies have been acclaimed as the most influential, pioneering band of the late 80s alt/rock movement, having served as a major influence for artists like Nirvana, Pearl Jam, Radiohead, the Strokes, Weezer, and many more. And today, a whole new generation of music fans has been discovering and embracing the band's "loudquietloud" signature sound. Quirky, catchy melodies have always been Pixies' calling card; seven genre-defining studio albums, including the Gold-certified Surfer Rosa, and the iconic Platinum Doolittle, considered one of the all-time, quintessential alt/rock albums. Sell-out crowds all over the globe, Pixies' live shows are unadulterated magic, simultaneously electrifying and lo-fi. Seventy-five minutes of the band playing anything they want, in whatever order they want, the classics and the new gems. And no two Pixies shows are ever the same.
After disbanding in 1993, Pixies launched their reunion tour in April 2004, playing to sell-out crowds across the globe for 15 years, a far longer period of time than they were a band originally. But writing, recording, and releasing new music was something that the band had been wanting to do for a long time, so they secretly booked studio time in Wales for the fall of 2012. Six days into the recording, founding bassist Kim Deal decided to leave the band; Black Francis, Joey Santiago and David Lovering made the decision to carry on, finishing and releasing the band's first studio album in more than two decades, 2014's Indie Cindy.
As a prolific international touring band, Francis, Santiago, Lovering began working with a number of touring bassists, including former A Perfect Circle bassist Paz Lenchantin, who came out on the road with the band in 2014 and continues to this day. The band are renowned for their emphatic live performances - where they play all four corners of the globe - their live sets regularly rack up to 30+ songs played - made even more impressive by the fact that there are no pre-planned setlists or soundchecks before the band walk onto the stage to play.
Twenty-sixteen's Head Carrier followed and marked the beginning of the band's long-standing collaboration with British producer Tom Dalgety. Twenty-eighteen's Beneath the Eyrie, the next full-length recording project with Dalgety, was recorded at Dreamland Studios near Woodstock, NY. The recording session was documented by the innovative "It's a Pixies Podcast," which captured a true un-edited record of the recording process. A deluxe edition followed, featuring unreleased demos from the Dreamland session.
Early 2022 saw the band and producer Dalgety settle into Guilford Studios in the woods of Vermont, armed with a true abundance of riches, more demos than were needed for the band's eighth album, Doggerel. Pixies renewed musical fervor saw a stand-alone single, "Human Crime," leap from the shadows in March 2022, and the band then headed out on the road to play sold-out shows in North America, headline BBC Radio 6 Music Festival in Cardiff, and play Mexico City's Vive Latino festival to 70,000 people. Pixies' first international tour since 2019 kicks off June 22 in Europe and will see the band performing in South America, Japan, Australia, and New Zealand.
Doggerel (2022) is a mature yet visceral record of gruesome folk, ballroom pop and brutal rock haunted by the ghosts of affairs and indulgences, driven wild by cosmic forces and envisioning digital afterlives where no God has provided one.
Doggerel was toured worldwide to sell-out audiences across the entirety of 2022 and 2023 – with the very last show at Hollywood Bowl, Los Angeles. Despite the band approaching their 38th year together, the crowds remain as diverse as ever – with new generations of fans emerging year-on-year who were not even born during Pixies 1.0. Pixies will return in 2024…
Connect with Pixies
Recommended Artists