Search
Hit enter to search or ESC to close
Tickets on sale now
The Dire Straits Experience
BOOK NOW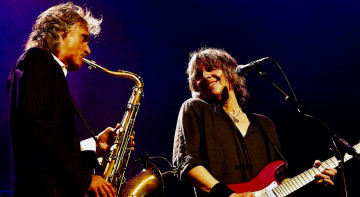 THE DIRE STRAITS EXPERIENCE
Plus Special Guests
3Olympia Theatre, Dublin
1st November 2023
Tickets from €44 including booking fees on sale now from ticketmaster.ie
45 years after the opening line of Sultans Of Swing was first heard being broadcast around the world, in the process introducing the music of Dire Straits; Former member Chris White is set to celebrate the band's work in the 3Olympia Theatre on 1st November 2023 as part of The Dire Straits Experience.
Thirty years have passed since Dire Straits disbanded, leaving a catalogue of some of the finest com- positions and musical performances that the heyday of rock ever produced. If anything, their reputa- tion has only grown with time. Record sales of more than one hundred and twenty million albums continue to increase as new young fans discover the music and join the band's massive worldwide following. A trend that is echoed in their 2018 inauguration into the Rock 'n' Roll Hall of Fame.
It was against the backdrop of a more than two-decade break - and an increasing demand to hear one of the most dramatic songbooks in rock history played live again – that former members of Dire Straits, Alan Clark, Chris White and Phil Palmer formed The Straits for a charity show at The Royal Albert Hall in 2011. With the prolific Knopfler enjoying an incredibly successful solo career, Alan Clark called upon the singer songwriter, Terence Reis to front the band in his absence. By the time The Straits ended, three and a half years later, the band had played more than 150 shows in 25 countries around the world.
However, an invitation to play a series of shows in New Zealand and Australia has seen Chris White and Terence Reis collaborating again for the Dire Straits Experience. Joining them is a stellar band of some of the finest professional musicians the UK has to offer. Between them they have worked with an enviable list of rock royalty that includes, amongst others, Mark Knopfler, Eric Clapton, Paul McCartney, Sam Brown, Elton John, Joe Cocker, Nik Kershaw, George Michael, Jamiroquai, The Kil- lers, The Waterboys, Mick Jagger, Tina Turner, Midge Ure, Albert Lee and Tom Jones.
Chris White, who worked with Mark Knopfler from the early '80s on film scores, joined Dire Straits for their record-breaking Brothers In Arms world tour in 1985. This included their performance at Live Aid and, later, the Nelson Mandela 70th Birthday concert in 1988. He went on to play on the final Dire Straits album, On Every Street, and was again part of the two-year world tour that produced the live On The Night album and DVD. Having experienced the audience response to a live Dire Straits show at the height of the band's popularity, he speaks fondly of the fans today.
"I have been truly amazed and, frankly, humbled by the response we have had from the fans on hearing these songs again. Dire Straits have the most amazingly loyal fan base. It has been so great to reconnect with people I last saw in 1992 and see them still getting so much from this music. Also, it is fantastic to make new friends among the many young people who are now discovering Mark and Dire Straits. So many people still want to experience this live."
Connect with Dire Straits Experience
Instagram / Twitter / Facebook / Website
Recommended Artists