Search
Hit enter to search or ESC to close
The Lumineers
St. Anne's Park
Friday 2nd June 2023
+ Special guests, Sigrid & Vance Joy
Please note:
01. Gates open: 17:00hrs | Show starts: 18:00hrs.
02. Download your ticket in advance to own phone (Guardian for minors).
03. Allow an additional 2hrs travel time to/from venue.
04. No parking at venue - use public transport.
The Lumineers BRIGHTSIDE World Tour has announced dates in Europe and the UK in 2023. The shows begin Friday 02 June 2023 in Dublin, Ireland and then continue through Sunday 09 July 2023 in the UK including their biggest ever UK headline show at London's Crystal Palace Park on Saturday 08 July 2023.
The BRIGHTSIDE World Tour Europe and UK tour dates announcement is preceded by the band's successful North American run which saw the group headlining stadiums in the U.S. including selling out Coors Field in Denver and the iconic Wrigley Field in Chicago playing to over 40,000 fans per night as well as a UK arena tour which included a sold-out date at The O2.
"We are so excited to return to Europe and the UK again and to reconnect with our amazing fans. We'll see you out there!" - The Lumineers
The BRIGHTSIDE World Tour celebrates The Lumineers' fourth studio album, BRIGHTSIDE, available now via Dualtone in the U.S. & Canada and Decca Records for the rest of the world. The 2x GRAMMY® Award-nominated band's latest release includes such new favorites as "A.M. RADIO," "BIG SHOT," "WHERE WE ARE," and the chart-topping first single and title track, "BRIGHTSIDE." "BRIGHTSIDE" recently made history by ascending to #1 on Billboard's "Alternative National Airplay" and "Adult Alternative Airplay" charts – the band's sixth time atop the latter ranking in less than 10 years. The Lumineers now boast the most #1 singles among all acts on that chart in the span since achieving their first AAA chart-topper in 2012.
After forming as a duo comprising vocalist/guitarist Wesley Schultz and percussionist/pianist Jeremiah Fraites in 2005, The Lumineers first found their way onto the global music scene in 2012, with their Platinum-selling self-titled debut album boasting the massive "Ho Hey" which would top charts around the world. The group would follow up their debut in 2016 with Cleopatra, which would not only reach #2 in the ARIA Singles Charts, but also amass more than 116 million streams globally. All three albums, including III, smashed into the top 10 in the UK, with 2016's 'Cleopatra' hitting the #1 spot on both sides of the Atlantic and is also en route to RIAA platinum status.
After successfully creating the world's first major climate positive tour in 2020, The Lumineers along with their management Activist Artists Management are proud to continue their partnership with environmental non-profit REVERB.org, on this year's tour. The band has committed to a comprehensive climate action program via REVERB's Music Climate Revolution campaign, which, in addition to reducing the tour's environmental footprint and engaging fans to take action at the shows, will support projects that directly and measurably eliminate greenhouse gases while benefitting diverse global communities. These efforts will make the tour climate positive; eliminating significantly more greenhouse gas pollution than the tour emits including fan travel to and from shows.
The Lumineers' most joyous and spontaneous piece of work thus far, BRIGHTSIDE has been met by immediate critical applause around the world:
"A sweet slice of Americana that will get right under your skin…Rootsy, heartfelt yet understated, The Lumineers hold lyrical intelligence, emotional introspection, analogue instrumentation and old-fashioned flaws-and-all musicianship to be of higher value than trendy production or sonic effects."
– THE TELEGRAPH (4/5)
"Every track has at least one super grabby hook…It demanded my attention. Beautiful and effecting wistfulness."
– NPR
"The easy melodic hooks that drew fans to The Lumineers in the first place remain, but the combination of stronger material and looser performances make for a strong fourth outing."
– ALLMUSIC (4/5)
"Schultz and Fraites are masters of storytelling… What separates BRIGHTSIDE from albums past is a raw quality, like sitting in on a jam session. Strings are sparse, instead relying on piano, percussion and guitar to carry the record. Songs like the stripped down 'A.M. RADIO' with its acoustic guitar lead in have a simplicity that allow the craftsmanship to shine."
– ASSOCIATED PRESS
"Its upbeat feel and finely wrought prettiness will satisfy Luministas for sure."
– ROLLING STONE
"It's a compact production – nine songs, 30 minutes, much storytelling – stocked with the rootsy pop flavors first experienced on their 2012 breakout single, 'Ho Hey,' as well as follow-up hits 'Stubborn Love' and 'Ophelia.'"
– USA TODAY
THE LUMINEERS 2023 EUROPE AND UK TOUR
JUNE 2 – DUBLIN, IRELAND – ST ANNE'S PARK
JUNE 5 – BERLIN, GERMANY – VERTI MUSIC HALL
JUNE 6 – WARSAW, POLAND – COS TORWAR
JUNE 7 – PRAGUE, CZECH – SPORTOVNI HALA FORTUNA
JUNE 9 – COPENHAGEN, DENMARK – FALCONER HALL
JUNE 12 – STOCKHOLM, SWEDEN – ANNEXET
JUNE 14 – BERGEN, NORWAY – BERGENFEST
JUNE 16-18 – SCHEEßEL, GERMANY – HURRICANE FESTIVAL
JUNE 16-18 – TUTTLINGEN, GERMANY – SOUTHSIDE FESTIVAL
JUNE 23 – MILAN, ITALY – CARROPONTE
JUNE 24 – FERRARA, ITALY – FERRARA SUMMER FESTIVAL
JUNE 26 – ROME, ITALY – CAVEA AUDITORIUM
JUNE 27 – MACERATA, ITALY – ARENA SFERISTERIO
JULY 2 – WERCHTER, BELGIUM – ROCK WERCHTER
JULY 5 – EDINBURGH, UNITED KINGDOM – EDINBURGH CASTLE
JULY 7 – CARDIFF, UNITED KINGDOM – CARDIFF CASTLE
JULY 8 – LONDON, UNITED KINGDOM – CRYSTAL PALACE PARK
JULY 9 – HALIFAX, UNITED KINGDOM – THE PIECE HALL
Connect With The Lumineers:
FACEBOOK | INSTAGRAM | TWITTER | YOUTUBE | WEBSITE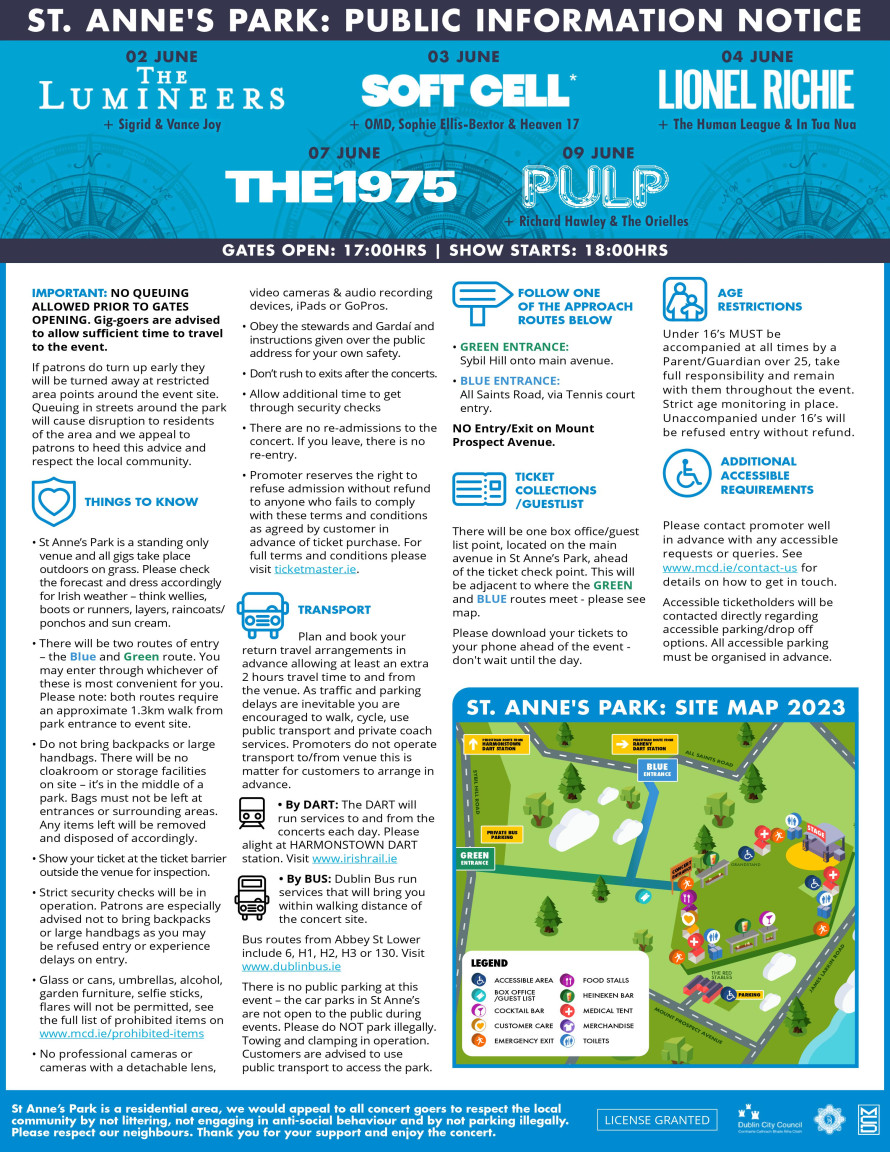 IMPORTANT: NO QUEUING ALLOWED PRIOR TO GATES OPENING. Gig-goers are advised to allow sufficient time to travel to the event.
If patrons do turn up early they will be turned away at restricted area points around the event site. Queuing in streets around the park will cause disruption to residents of the area and we appeal to patrons to heed this advice and respect the local community.
THINGS TO KNOW
• St Anne's Park is a standing only venue and all gigs take place outdoors on grass. Please check the forecast and dress accordingly for Irish weather – think wellies, boots or runners, layers, raincoats/ ponchos and sun cream.
There will be two routes of entry – the Blue and Green route. You may enter through whichever of these is most convenient for you. Please note: both routes require an approximate 1.3km walk from park entrance to event site.
Do not bring backpacks or large handbags. There will be no cloakroom or storage facilities on site – it's in the middle of a park. Bags must not be left at entrances or surrounding areas. Any items left will be removed and disposed of accordingly.
• Show your ticket at the ticket barrier outside the venue for inspection.
Strict security checks will be in operation. Patrons are especially advised not to bring backpacks or large handbags as you may be refused entry or experience delays on entry.

Glass or cans, umbrellas, alcohol, garden furniture, selfie sticks, flares will not be permitted, see the full list of prohibited items on www.mcd.ie/prohibited-items

No professional cameras or cameras with a detachable lens, video cameras & audio recording devices, iPads or GoPros.
• Obey the stewards and Gardaí and instructions given over the public address for your own safety.
• Don't rush to exits after the concerts.
• Allow additional time to get through security checks
• There are no re-admissions to the concert. If you leave, there is no re-entry.
• Promoter reserves the right to refuse admission without refund to anyone who fails to comply with these terms and conditions as agreed by customer in advance of ticket purchase. For full terms and conditions please visit ticketmaster.ie.
TRANSPORT
Plan and book your return travel arrangements in
advance allowing at least an extra 2 hours travel time to and from
the venue. As traffic and parking delays are inevitable you are encouraged to walk, cycle, use public transport and private coach services. Promoters do not operate transport to/from venue this is matter for customers to arrange in advance.
• By DART: The DART will run services to and from the concerts each day. Please
alight at HARMONSTOWN DART station. Visit www.irishrail.ie
• By BUS: Dublin Bus run services that will bring you within walking distance of the concert site.
Bus routes from Abbey St Lower include 6, H1, H2, H3 or 130. Visit www.dublinbus.ie
There is no public parking at this event – the car parks in St Anne's are not open to the public during events. Please do NOT park illegally. Towing and clamping in operation. Customers are advised to use public transport to access the park.
FOLLOW ONE OF THE APPROACH ROUTES BELOW
• GREEN ENTRANCE: Sybil Hill onto main avenue.
• BLUE ENTRANCE: All Saints Road, via Tennis court entry.
NO Entry/Exit on Mount Prospect Avenue.
TICKET COLLECTIONS /GUESTLIST
There will be one box office/guest list point, located on the main avenue in St Anne's Park, ahead
of the ticket check point. This will be adjacent to where the GREEN and BLUE routes meet - please see map attached.
Please download your tickets to your phone ahead of the event - don't wait until the day.
AGE RESTRICTIONS
Under 16's MUST be accompanied at all times by a Parent/Guardian over 25, take full responsibility and remain with them throughout the event. Strict age monitoring in place. Unaccompanied under 16's will be refused entry without refund.
ADDITIONAL ACCESSIBLE REQUIREMENTS
Please contact promoter well in advance with any accessible requests or queries. See www.mcd.ie/contact-us for details on how to get in touch. Accessible ticketholders will be contacted directly regarding accessible parking/drop off options. All accessible parking must be organised in advance.
St Anne's Park is a residential area, we would appeal to all concert goers to respect the local community by not littering, not engaging in anti-social behaviour and by not parking illegally. Please respect our neighbours. Thank you for your support and enjoy the concert.
Recommended Artists