Search
Hit enter to search or ESC to close
+ very special guests The Human League & In Tua Nua
Lionel Richie
BOOK NOW
Lionel Richie
Sunday 4th June
St. Anne's Park, Dublin
+ very special guests The Human League & In Tua Nua
Tickets for Dublin priced €69.90 incl. booking fee
Please note:
01. Gates open: 17:00hrs | Show starts: 18:00hrs.
02. Download your ticket in advance to own phone (Guardian for minors).
03. Allow an additional 2hrs travel time to/from venue.
04. No parking at venue - use public transport.
International superstar Lionel Richie has a discography of albums and singles that are second to none. His music is part of the fabric of pop music with more than 125 million albums sold worldwide. Richie has won an Oscar®, a Golden Globe®, four Grammy Awards®*, was named the MusicCares Person of the Year in 2016, a Kennedy Center Honoree in 2017 and most recently, was inducted into the Rock & Roll Hall of Fame 2022 Class. In March 2018, Richie put his handprints and footprints in cement at the TCL Chinese Theatre IMAX in Hollywood, one of the oldest awards in Hollywood. He was featured in GQ's Grooming Hall of Fame in 2018 for his iconic mustache. He recently received the Ivor Novello PRS for Music Special International Award. This year, Richie received the Gershwin Prize for Popular Song by the Library of Congress in 2022. He was the 12th recipient of the prestigious award. The Tuskegee, Alabama native is a true music icon.
Lionel Richie is known for his mega-hits such as "Endless Love," "Lady," "Truly," "All Night Long," "Penny Lover," "Stuck on You," "Hello," "Say You, Say Me," "Dancing on the Ceiling," and co-wrote one of the most important pop songs in history, "We Are the World," for USA for Africa. His song catalog also includes his early work with The Commodores, where he developed a groundbreaking style that defied genre categories, penning smashes such as "Three Times a Lady," "Still," and "Easy." Richie has had 11 consecutive years where he wrote #1 songs*.
Richie sold out arenas worldwide with a set list of his brightest and best anthems on his All The Hits, All Night Long Tour. In recent years, he also headlined festivals including Bonnaroo, Outside Lands, and Glastonbury, drawing the festival's biggest crowd ever with more than 200,000 attendees.
Richie took fans on a spectacular musical journey with his latest album, Live from Las Vegas along with his most recent tour, the "Hello" tour, which kicked off in Summer 2019. The album, which was released on August 16, 2019 was #1 on the Billboard Artist 100 chart. The album also marks the legendary artist's first release on Capitol Records.
Richie is a judge on ABC's American Idol and has been for the past 5 seasons. He launched his Las Vegas headlining residency show, Lionel Richie—All the Hits in April 2016. In an unforgettable evening featuring his brightest and best anthems which have defined the music icon's unparalleled career, Richie took his fans on a spectacular musical journey, performing a variety of his seminal hits. Richie recently extended his "Back to Las Vegas" residency at Wynn Las Vegas' Encore Theater in 2022.
* Grammy Awards include: Album of the Year (1984) – Can't Slow Down, Best Male Pop Performance (1982) – Truly, Producer of the Year (1984), Song of the Year (1986) – We Are The World,
* #1 songs include: 1976 Just to Be Close to You (R&B #1), 1977 Easy (R&B #1), 1978 Three Times a Lady, 1979 Still, 1980 Lady, 1981 Endless Love, 1982 Truly, 1983 All Night Long (All Night), 1984 Hello, 1985 Say You, Say Me + We Are The World, 1986 Dancing on the Ceiling (Radio & Records #1)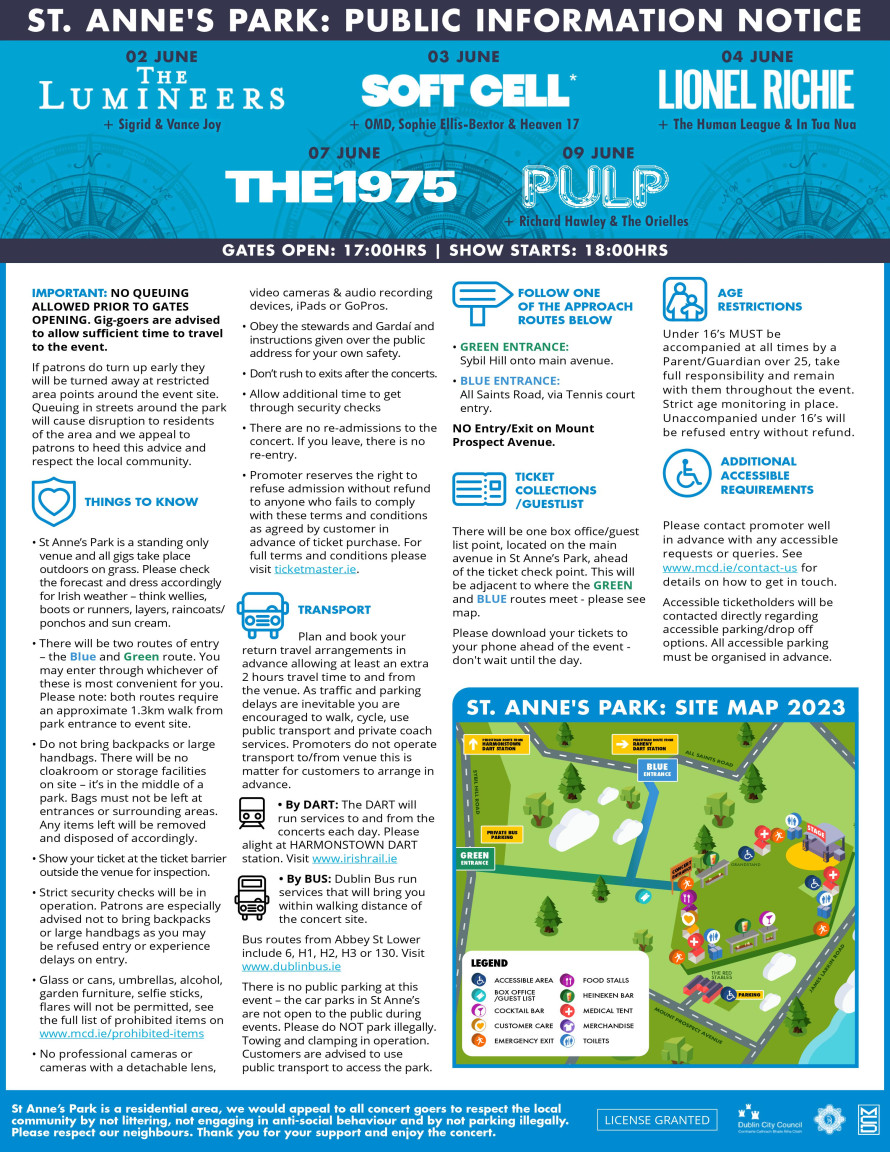 IMPORTANT: NO QUEUING ALLOWED PRIOR TO GATES OPENING. Gig-goers are advised to allow sufficient time to travel to the event.
If patrons do turn up early they will be turned away at restricted area points around the event site. Queuing in streets around the park will cause disruption to residents of the area and we appeal to patrons to heed this advice and respect the local community.
THINGS TO KNOW
• St Anne's Park is a standing only venue and all gigs take place outdoors on grass. Please check the forecast and dress accordingly for Irish weather – think wellies, boots or runners, layers, raincoats/ ponchos and sun cream.
There will be two routes of entry – the Blue and Green route. You may enter through whichever of these is most convenient for you. Please note: both routes require an approximate 1.3km walk from park entrance to event site.
Do not bring backpacks or large handbags. There will be no cloakroom or storage facilities on site – it's in the middle of a park. Bags must not be left at entrances or surrounding areas. Any items left will be removed and disposed of accordingly.
• Show your ticket at the ticket barrier outside the venue for inspection.
Strict security checks will be in operation. Patrons are especially advised not to bring backpacks or large handbags as you may be refused entry or experience delays on entry.

Glass or cans, umbrellas, alcohol, garden furniture, selfie sticks, flares will not be permitted, see the full list of prohibited items on www.mcd.ie/prohibited-items

No professional cameras or cameras with a detachable lens, video cameras & audio recording devices, iPads or GoPros.
• Obey the stewards and Gardaí and instructions given over the public address for your own safety.
• Don't rush to exits after the concerts.
• Allow additional time to get through security checks
• There are no re-admissions to the concert. If you leave, there is no re-entry.
• Promoter reserves the right to refuse admission without refund to anyone who fails to comply with these terms and conditions as agreed by customer in advance of ticket purchase. For full terms and conditions please visit ticketmaster.ie.
TRANSPORT
Plan and book your return travel arrangements in
advance allowing at least an extra 2 hours travel time to and from
the venue. As traffic and parking delays are inevitable you are encouraged to walk, cycle, use public transport and private coach services. Promoters do not operate transport to/from venue this is matter for customers to arrange in advance.
• By DART: The DART will run services to and from the concerts each day. Please
alight at HARMONSTOWN DART station. Visit www.irishrail.ie
• By BUS: Dublin Bus run services that will bring you within walking distance of the concert site.
Bus routes from Abbey St Lower include 6, H1, H2, H3 or 130. Visit www.dublinbus.ie
There is no public parking at this event – the car parks in St Anne's are not open to the public during events. Please do NOT park illegally. Towing and clamping in operation. Customers are advised to use public transport to access the park.
FOLLOW ONE OF THE APPROACH ROUTES BELOW
• GREEN ENTRANCE: Sybil Hill onto main avenue.
• BLUE ENTRANCE: All Saints Road, via Tennis court entry.
NO Entry/Exit on Mount Prospect Avenue.
TICKET COLLECTIONS /GUESTLIST
There will be one box office/guest list point, located on the main avenue in St Anne's Park, ahead
of the ticket check point. This will be adjacent to where the GREEN and BLUE routes meet - please see map attached.
Please download your tickets to your phone ahead of the event - don't wait until the day.
AGE RESTRICTIONS
Under 16's MUST be accompanied at all times by a Parent/Guardian over 25, take full responsibility and remain with them throughout the event. Strict age monitoring in place. Unaccompanied under 16's will be refused entry without refund.
ADDITIONAL ACCESSIBLE REQUIREMENTS
Please contact promoter well in advance with any accessible requests or queries. See www.mcd.ie/contact-us for details on how to get in touch. Accessible ticketholders will be contacted directly regarding accessible parking/drop off options. All accessible parking must be organised in advance.
St Anne's Park is a residential area, we would appeal to all concert goers to respect the local community by not littering, not engaging in anti-social behaviour and by not parking illegally. Please respect our neighbours. Thank you for your support and enjoy the concert.
Recommended Artists