Search
Hit enter to search or ESC to close
Following the news of two sold out stadium shows at Newcastle's St. James' Park, Sam Fender has announced outdoor dates for next summer at Ormeau Park, Belfast on Friday 23rd June and Malahide Castle, Dublin on Sunday 25th June.
Tickets for Dublin are priced €50.35 inclusive and go on sale from 10am on Friday 21st October via www.ticketmaster.ieand www.samfender.com. Subject to licence.
Over the past few months, Sam Fender has solidified himself as one of the most celebrated and successful British artists of his generation, pulling a huge crowd on the Pyramid Stage at Glastonbury ahead of his own 45,000 sell-out show at London's Finsbury Park.
It's been a huge 2022 so far for the North Shields hero, picking up a slew of BRIT, NME and Ivor Novello Awards. This latest announcement suggests 2023 will be Sam's biggest year yet.
About Sam Fender..
If Sam Fender's debut album, 2019's "Hypersonic Missiles", introduced a smart, street-wise British songwriter with a penchant for euphoric, hard-hitting guitar anthems, it was 2021's peerless "Seventeen Going Under" that sent the Newcastle artist stratospheric. An acute observer, Fender turns the mirror not only on the streets he grew up walking, but on himself too. The record is a tough-talking but also tender account of Fender's childhood and finding his feet in the North of England. It's also a coming-of-age story, marrying relatable family themes and broken friendships with devastatingly colossal choruses.
"Seventeen Going Under" is also a record that has taken Sam right across the globe, playing to bigger rooms and wider stages, whilst reaping a clutch of awards too (including BRITs, NMEs, Ivor Novellos, and a first Mercury Prize nomination)
Having headlined his first festivals in the UK in the Summer of 2022, and sold out all 45,000 tickets of his most recent headline performance in London, Sam Fender has inadvertently become one of Britain's most celebrated and successful musicians of a generation.
Sam Fender Live 2023:
9th June – St. James' Park, Newcastle SOLD OUT
10th June – St. James' Park, Newcastle SOLD OUT
23rd June – Ormeau Park, Belfast *New Date*
25th June – Malahide Castle, Dublin *New Date*
Connect with SAM FENDER:
FACEBOOK | INSTAGRAM | TWITTER | YOUTUBE | SPOTIFY

OUTDOOR STANDING EVENT PLEASE DRESS APPROPRIATELY FOR IRISH WEATHER AND CHECK WEATHER PRIOR TO ARRIVAL
Weekday: Gates 5pm/Show Starts 6pm
Weekend: Gates 4pm/Show Starts 5pm
Due to increased traffic & security measures attendees are advised to be at the venue in sufficient time. No overnight or early queuing. Please respect local residents and other park users by not engaging in anti-social behaviour.
THERE IS NO RE-ADMISSION TO THESE EVENTS.
FOR YOUR SAFETY & ENJOYMENT
To help avoid any entry delays, please download, print or save your ticket(s) before arriving at
the concert. We recommend saving the ticket(s) to your mobile device's digital wallet. If you have purchased any ticket(s) for other concert attendees, please provide their ticket to them prior to arrival at the entry gate. Ticket inspections in operation on approach routes.
Please allow plenty of time for concert entry procedures, ticket checks and searches. Everyone will be subject to a search permissible under law and a condition of ticket purchase and entry. Additional security checks may take place once inside the venue.
There will be a strict NO Alcohol Policy implemented on all transport and private buses travelling to the venue. Please do not arrive at the event intoxicated as you will not be permitted entry.
The Promoters and An Garda Síochána reserve the right to refuse admission to anyone deemed to be under the influence of alcohol and/or drugs.
NO ALCOHOL or DRINKS are permitted to be brought into the park demesne or the venue with the exception of water and soft drinks in sealed plastic bottles up to 500ml. Empty reusable plastic bottles are permitted into the venue. There are water drinking water points onsite.
NO backpacks, large handbags, bags over A4
size, garden furniture, deckchairs, fold up chairs
or shooting sticks, umbrellas, selfie sticks, flares/ fireworks, laser pens, megaphone/air horns, aerosols, spray cans, smoke & gas canisters, nitrous oxide & any associated equipment, glass, drones', professional cameras with a detachable lens, video cameras, audio recording devices. Items left unattended will be removed and disposed of accordingly. Full list of prohibited items please visit www.mcd.ie
Please move slowly and quietly when exiting the concert site. Please co-operate with stewards and Gardaí and follow any loudspeaker announcements.
There may be strobe lighting, lasers and pyrotechnics used at these events.
TRANSPORT
Plan and book your return travel arrangements in advance allowing at least an extra 2 hours travel time to and from the venue. As traffic and parking delays are inevitable you are encouraged to walk, cycle, use transport and coach services. Promoters do not operate transport to/from venue this is matter for customers to arrange in advance. Pedestrians will only be permitted into the grounds of Malahide Castle via Hogans Gate (Near Dart Station). Pedestrians will not be permitted to enter through any other park gate.
DART: The Dart will run services each day to and from Malahide Dart Station. It is a 15-minute walk to the arena entrance from this station. For more information visit www.Irishrail.ie
CITY CENTRE CONCERT BUS: There will be a direct bus service to Customs House Quay, Dublin 1 following each event from the Dublin Road. This is offered as a single or return service. You can pre-book and find more info at www.marathoncoaches.ie
PRIVATE BUSES: There will be coach/ bus and minibus parking available within the grounds of Malahide Castle, access is via Back Road. It is very important to us that you notify and register with us in advance, to do so please email [email protected] with the details.
CAR: Fingal County Council will be providing car parking at the Malahide Castle Concerts via the Back Road. For discounted tickets we advise that you pre- purchase parking in advance of the event from www.marathoncoaches.ie Parking tickets will cost €25 on the day without a pre-booking. Please follow the event traffic signage.

DO NOT ATTEMPT TO PARK ILLEGALLY IN AREAS SURROUNDING MALAHIDE CASTLE, IN LOCAL ESTATES OR OUTSIDE LOCAL RESIDENCES. PARKING ENFORCEMENT RULES WILL BE IN OPERATION AND YOUR VEHICLE WILL BE CLAMPED OR TOWED

TICKET COLLECTIONS / GUESTLIST
Ticketmaster box offices and guestlist facilities are located opposite the arena entrance
AGE POLICY
No unaccompanied under 16's are allowed on site. Under 16's must be accompanied by a parent / guardian over 18, who must take full responsibility for them and remain with them throughout the event. Unaccompanied under 16's will be refused entry without refund.
ADDITIONAL ACCESSIBLE REQUIREMENTS
Accessible parking must be booked in advance. Please contact [email protected] to register for this and with any other non-ticket related requests or queries. For accessible ticket queries please contact www.ticketmaster.ie
CARD PAYMENTS
All venue bars will have contactless card payment facilities. Some food vendors will also take card payments. The promoter reserves the right to refuse admission or evict without refund anyone who fails to comply with the event terms and conditions (T&C's) of entry. For full T&C's please visit www.ticketmaster.ie / www.mcd.ie
Malahide Castle Demesne is in a residential area, we ask all concert-goers to respect the local community by not engaging in any anti-social behaviour and by not parking illegally or in residential areas. Thank you for your cooperation and enjoy the shows.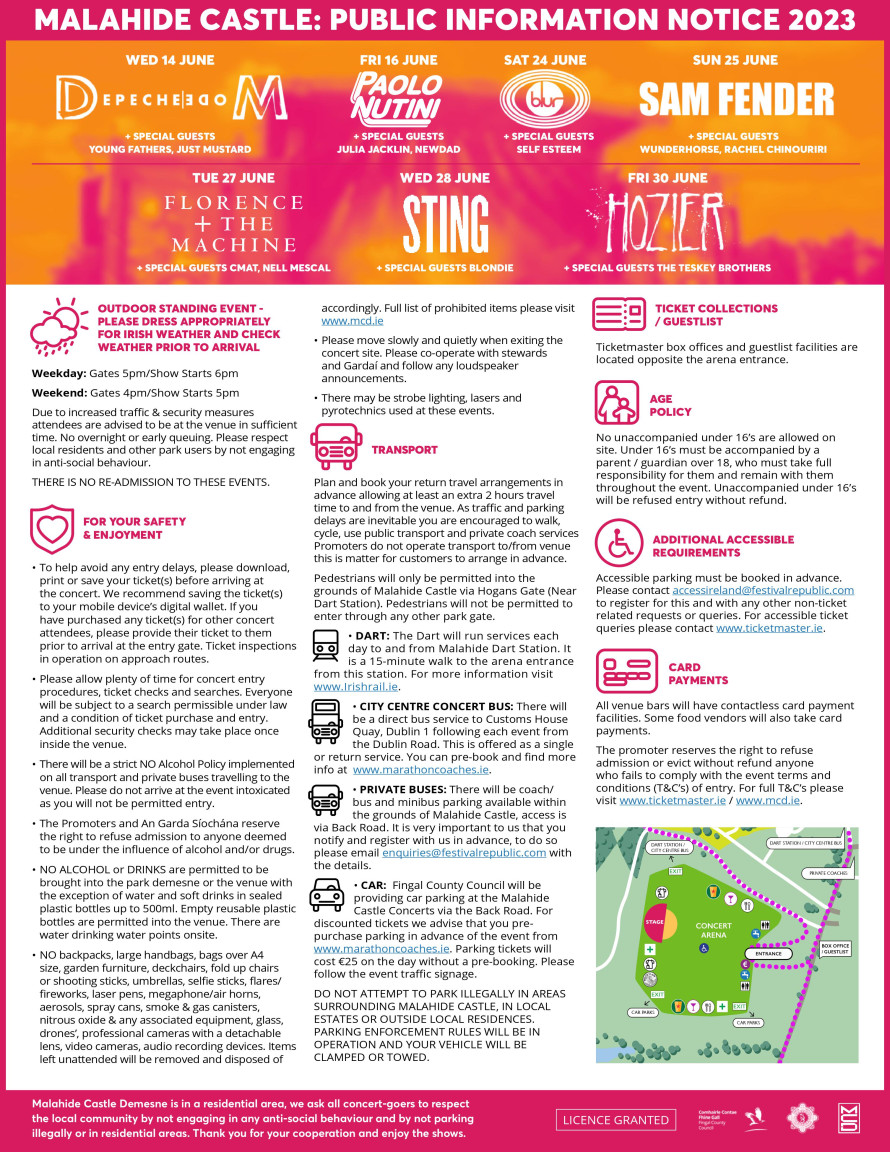 Recommended Artists